The Apus is the resort – Condotel is located at the coastal Provincial Road 44, Phuoc Hai Town, Dat Do District, Ba Ria Vung Tau Province. The Apus Phuoc Hai project with a total area of ​​up to 50,464 m2 is divided into 3 main subdivisions including: Sea Villas – Apartments & Tourist Apartments and 5 Star Hotel Complex, Sea Restaurant Area, Fresh water bath.
GENERAL INFORMATION
Investor
Tan Thanh Tourist Trade Joint Stock Company.
Location
Provincial Road 44A, Phuoc Hai Town, Dat Do District, Ba Ria - Vung Tau Province.
Project type
Tourist apartment - Villa resort.
The number of products
658 tourist apartments and 58 villas.
Estimated time of completion
PROJECT LOCATION
Project Location The Apus Phuoc Hai is located right on the front of Provincial Road 44, Long Hai Town, Dat Do District, Ba Ria Vung Tau Province. The Apus Ba Ria Vung Tau is adjacent to Long Hai Beach, about 15 minutes from Ba Ria City, 30 minutes from Vung Tau City and 60 minutes from Ho Chi Minh City.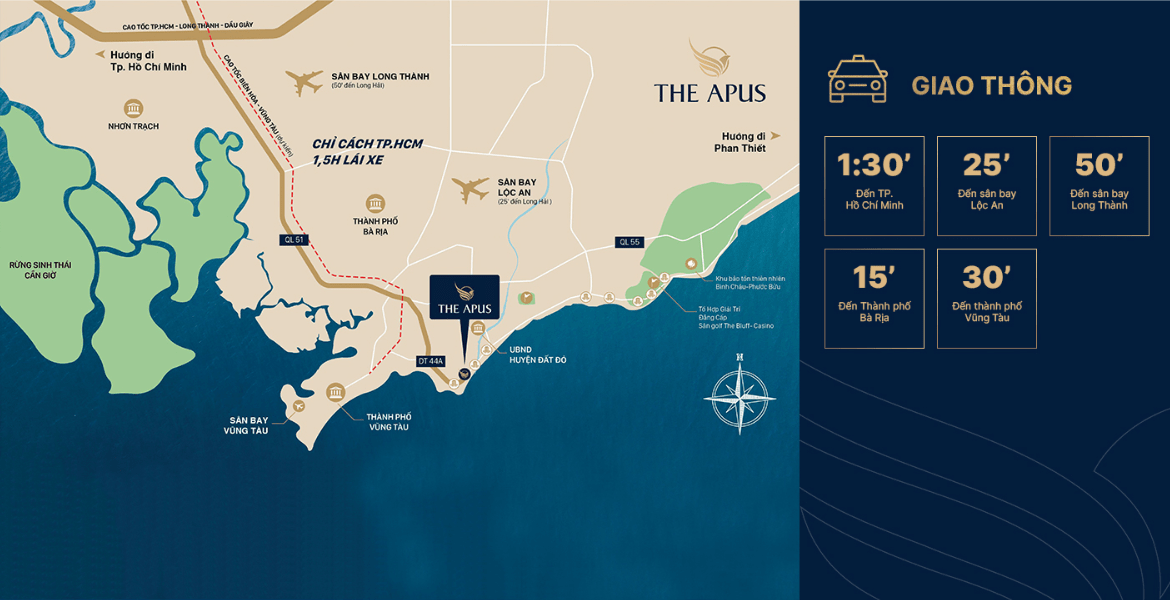 INTRODUCTION VIDEO
The Apus project with the location "Located in the direction of the Son Huong Thuy" brings good luck and good vitality to the owner, especially at The Apus Villa, customers own clean energy technologies and a relaxing environment. green with amenities created by Japanese designer FUJINAMI.
PROJECT FACILITIES
Utilities The Apus Long Hai project is invested a lot by the investor of Tan Thanh Trading – Tourism Joint Stock Company to create a chain of 5sao marine utilities serving all residents here.
The Apus Phuoc Hai project has a total of 68 large and small utilities concentrated in 2 main areas:
Beach area The Lounge
Restaurant
Coffee
Spa
Salt water lake
Tea reward area
Square area
Wedding event area, …
Yoga area
Children's play area with tree house
The fountain area
Gym room
Reading area
Waterfall area
Walking path
Sunbathing area
The largest swimming pool in the BRVT area is 130m long
Children's swimming pool
Water Music Square
Outdoor event square
Especially:
Salt water lake, 266m2 beach swimming pool at The Lounge area
Swimming pool overflow 130m in the square area
Water Music Square
Pedestrian bridge
The Apus Beach is embankment safe for sea bathing guests, absolutely protected. In addition, at The Lounge, our investor also built a saltwater swimming pool, artificial waves, customers can feel secure to experience the service.
The Marine Pool
Not only immersing in the relaxing water, the infinity-edge swimming pool is the place to take your worries away, immerse yourself in a romantic, romantic vacation or ecstatic joy in the most luxurious parties in Phuoc. Hai.

The Lighthouse Park area
The park is also the center of art, music, film, live fashion, project and regional entertainment highlights.

The Ferris Park area
Where the joy of small children appears shimmering and true. Where adults can find a moment of peace with a ticket back to sweet childhood memories.

The Eden Villa area
The Eden Villa is a real "paradise" in the midst of poetic Phuoc Hai heaven and earth. Hidden inside each villa is not only a delicate combination of architecture or modern technology, but also a wonderful harmony between Earth and Man. It is a strong foundation for creating an elite community.
A perfect second home for those who fall in love with the scenery of "NATURAL SON – OWNER" of charming feng shui, passionately enjoying tropical moments full of sound and endless colors.

FLOOR OF THE APUS VUNG TAU PROJECT
The Apus Vung Tau project ground is divided into two main types: Apartments & Sea Villas. The project is divided into main subdivisions: The Ferris Park – The Eden Villa – The Marine Pool – The Aqua Village – The Jungle Village – The Lounge – The Lighthouse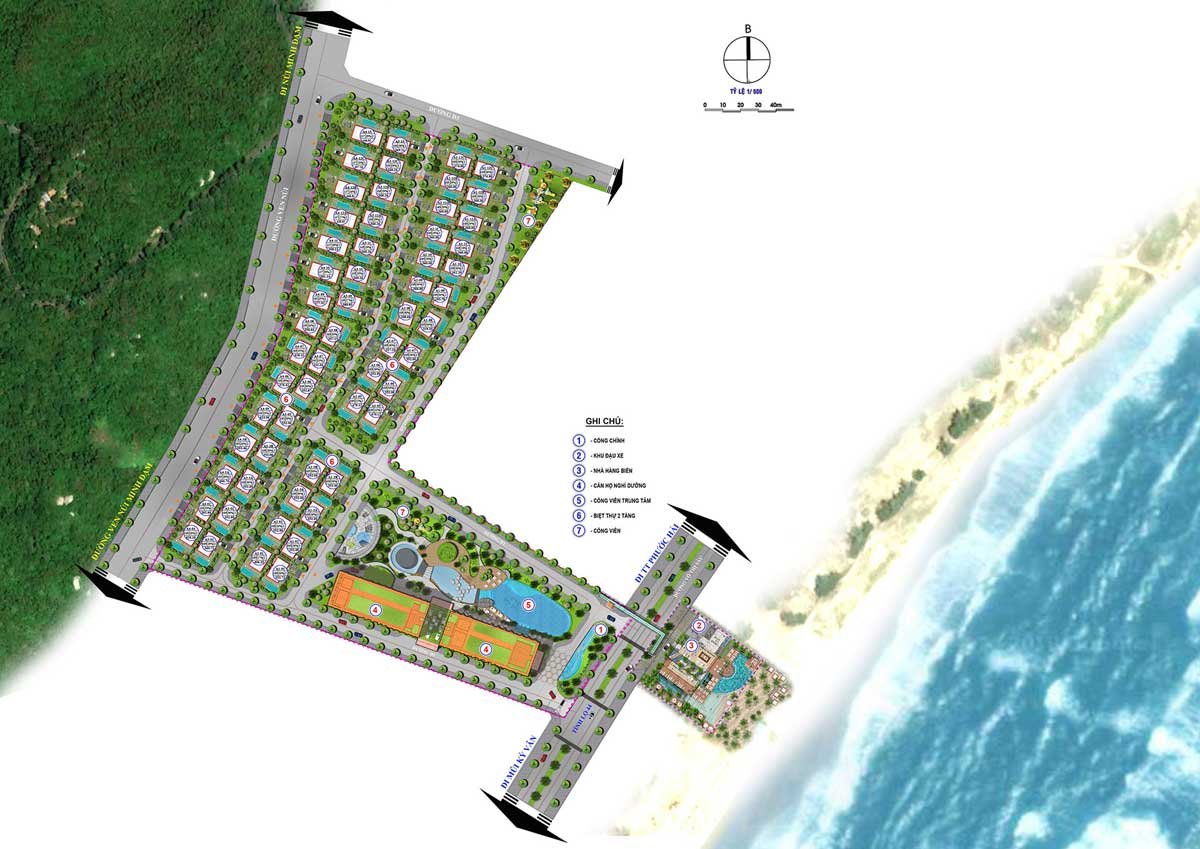 DISTRICT A - VILLAS THE APUS
Overall information Subdivision A 31,741,7 m2: Coastal Villas for living – Resort
Luxury villa land (including 60 units): 22,075,0 m2
Land for internal traffic: 8,409.1 m2
Parking: 997,6 m2
Transformer station: 260.0 m2
The area of ​​each villa is from 350 m2 to 490 m2

The Apus Villa basement is designed with a semi-submersible and semi-submerged design suitable for the Vietnamese climate, creating a moisture-proof layer, helping to ventilate space, used as a warehouse, garage with kitchen, laundry room and room home leave. The Apus Vung Tau living room on the ground floor is designed with a large glass wall to create a clear view, overlooking the pool, trees, and grass around the villa.
Ground floor: 01 living room overlooking the pool, garden and 02 rooms (living room and bedroom are designed with large glass walls to create a clear view, overlooking: swimming pool, trees, grass around the villa. ).
First floor and 2nd floor: each floor has 3 bedrooms, with large glass walls and spacious balcony, creating a clear view to the outside. The bedrooms have a very convenient private toilet arrangement.

THE APUS MARINE VILLA DESIGN
Land area from: 295 – 497 m2
Construction area: 105 – 137 m2
Construction floor area: 210 – 274 m2
Height: 1 ground floor 1 floor + 1 rooftop
Facilities: private swimming pool, garage and garden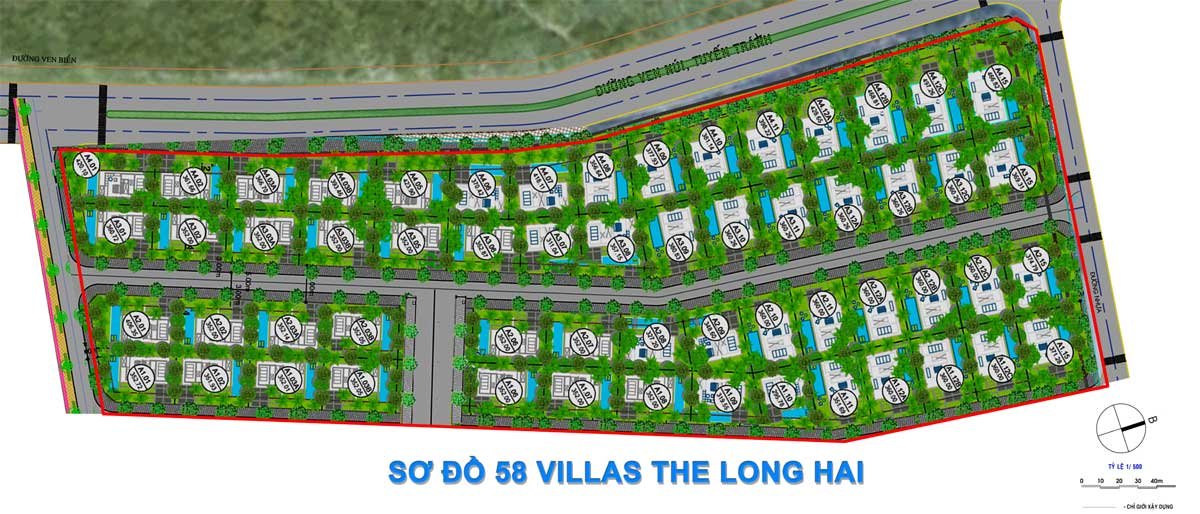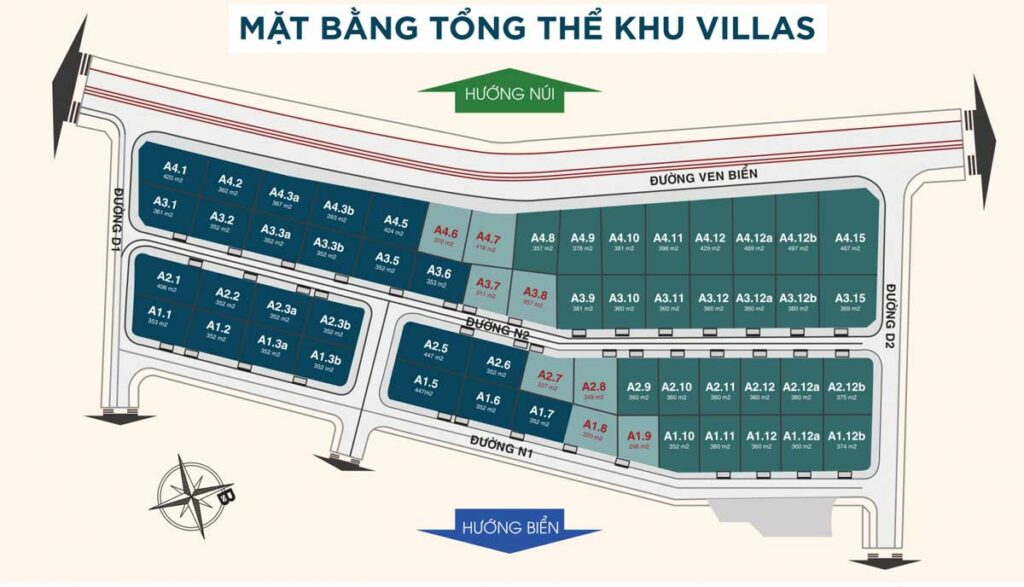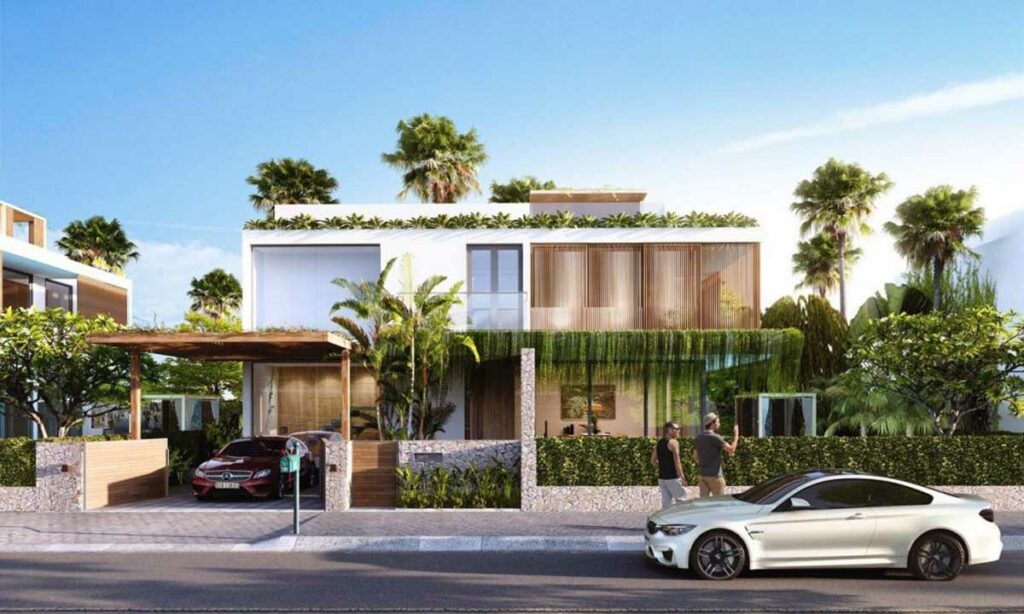 Ocean Villa swimming pool area
Please leave your contact information to receive consultation support.